Where is Halong Bay in Vietnam map?
Halong Bay, located in northeastern Vietnam's Gulf of Tonkin, is a UNESCO World Heritage site renowned for its breathtaking natural beauty and cultural significance. Situated within Quang Ninh Province, it is approximately 165 kilometers from the capital city of Hanoi.
The bay is known for its emerald and turquoise waters and is adorned with over 1,600 limestone karsts and islets, creating a mesmerizing and picturesque landscape. These unique geological formations have been shaped over millions of years by the ocean's wave erosion and weathering processes. Halong Bay's geological significance lies in its remarkable example of karst topography and is often referred to as a "karst wonderland".
Apart from its natural wonders, Halong Bay holds cultural significance as well. It has historical ties with local communities and ethnic minorities that have inhabited the region for centuries[1]. The bay and its surrounding area have witnessed the rise and fall of different civilizations, leaving behind traces of ancient human settlements and cultural practices.
Visitors to Halong Bay can embark on cruises or boat tours to explore the stunning limestone formations, hidden caves, and secluded beaches. Popular landmarks such as Sung Sot Cave (Surprise Cave) and Titop Island attract numerous tourists throughout the year. Adventure enthusiasts can partake in activities such as kayaking, snorkeling, and hiking to fully experience the bay's natural beauty.
As a UNESCO World Heritage site, Halong Bay showcases not only its outstanding landscape but also contributes to the preservation of biodiversity and cultural heritage in Vietnam. Its recognition as a natural wonder demonstrates its global significance and the need for its protection and sustainable development for future generations to enjoy.
Where is Halong Bay Vietnam located? Coordinates of Halong Bay?
Halong Bay is located in Quang Ninh Province, which is situated east of Hanoi, the capital city of Vietnam[1]. The geographic coordinates of Halong Bay are approximately 20.9000° N latitude and 107.2000° E longitude.
Ha Long Bay in Vietnam is known for its distinctive geographic features that offer visitors breathtaking views of limestone islands and islets surrounded by emerald and turquoise waters. The area is home to around 1,600 islands and rocks in various sizes and shapes, creating a unique and stunning landscape unlike any other. The towering rocky formations jutting out of the tranquil waters of Ha Long Bay have made it a popular destination for tourists from around the world.
Things to know before you go to Halong Bay Vietnam
HALONG BAY CULTURAL & HISTORICAL VALUE
The earliest culture was the Soi Nhu individuals who lived nearby somewhere in the range of 18,000BC and 7,000BC who are accepted to have supported themselves by picking leafy foods shellfish.
The ensuing Cai Beo culture existed nearby somewhere in the range of 7,000BC and 5000BC and was predicated on the current strategies for hunting and assembling acquired from the Soi Nhu, as well as new methods for marine abuse.
Somewhere in the range of 3000BC and 1500BC, the Cai Beo culture advanced into what is known as the Halong Culture, which is the one that has abandoned the most proof, with upwards of 50 social relics being found.
During the medieval times, the region was the site of no less than three significant maritime fights, where each time the Vietnamese safeguards beat back an attacking Chinese or Mongol armada.
Ha Long Sound's area on the shipping lane among Vietnam and China, Japan and Thailand, implied that it has been a compelling region since the beginning of time. During the twelfth hundred years, the locale became home to the primary exchanging port Vietnam, Wear Van Port.
In later history, Ha Long and the encompassing straights have had a pivotal impact in guarding Vietnam from trespassers. Notwithstanding the Chinese attacks referenced over, the US naval force likewise mined the waters of the sound, some of which actually lie unseen in the water.
How to Get to Halong Bay
By motorbike
From Hanoi to Halong Bay and some Northern provinces, you can go to Bac Ninh by motorbike via Highway 18. Then, make your way to Pha Lai Ward in Chi Linh District, Hai Duong Province. After going to Dong Trieu Town – the western gateway of Quang Ninh Province and continuing past Uong Bi City, you will arrive in Halong City.
With this route, it will take you about 4 – 5 hours to travel. For those who like going backpacking, this will be a great experience. However, you should beware of danger by maintaining an appropriate speed, wearing a helmet with glasses and wearing long-sleeved clothing during the journey.
By car
Going via vehicle is an efficient way for your Ha Long excursion in Vietnam. From the center of Ha Noi, you really want to follow the headings on Ha Noi – Ha Long Expressway to arrive at Ha Long City rapidly and securely. To compare with going by motorbike, it offers more limited travel time which is somewhere around 2 – 2.5 hours.
By public transport
In addition to private vehicles, you can also use public transport such as taxis, coaches, trains or buses to go to Ha Long. Also, if you depart from the Southern provinces, you can take a plane which lands at Cat Bi Airport in Hai Phong or Van Don Airport in Quang Ninh. From these places, it is very convenient for you to visit Ha Long Bay in Vietnam and explore its beauty.
Click here to book a transportation to Halong!
What is Ha Long Bay famous for?
Top Attractions and Activities – Best things to do in Halong Bay
Scenic Cruise: Taking a journey is one of the most mind-blowing ways of encountering the magnificence of Halong Straight. Appreciate all encompassing perspectives on limestone karsts, caverns, and emerald waters as you sail through the sound's beautiful scene.
Sung Sot Cave: Otherwise called Shock Cavern, Sung Drunkard Cavern is one of the biggest and most great caverns in Halong Sound. Investigate its eminent chambers enhanced with tapered rocks and stalagmites, and be astonished by the dazzling normal developments.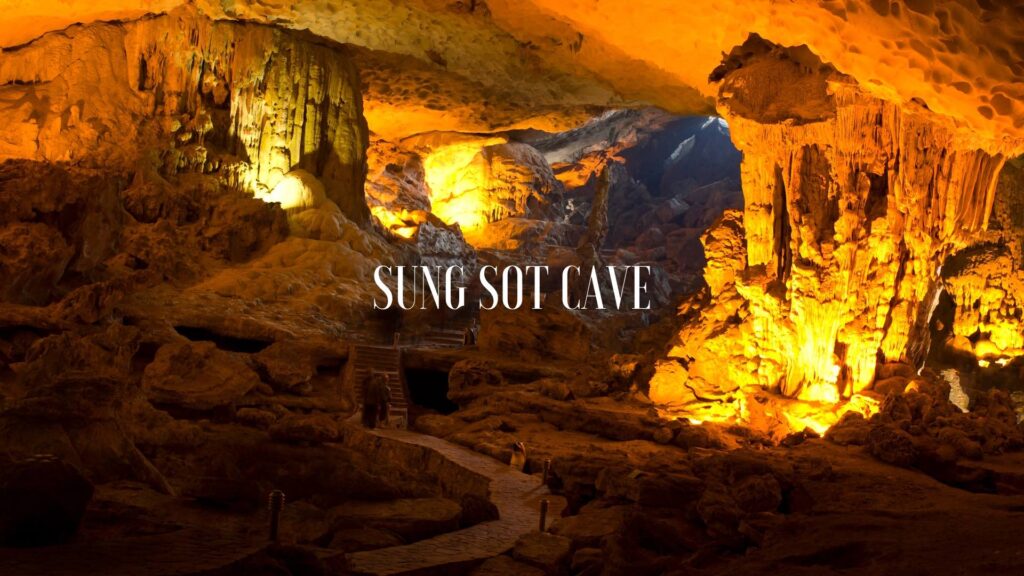 Kayaking: Oar through the quiet waters and between the karsts in a kayak to submerge yourself in the excellence of Halong Sound completely. Find stowed away tidal ponds, drifting fishing towns, and segregated sea shores en route.
Click here to book kayak in Halong Bay!
Titop Island: Visit Titop Island for amazing perspectives on Halong Sound from its all encompassing perspective. You can likewise loosen up on the sandy ocean side, swim free waters, or climb up to the top for a compensating experience.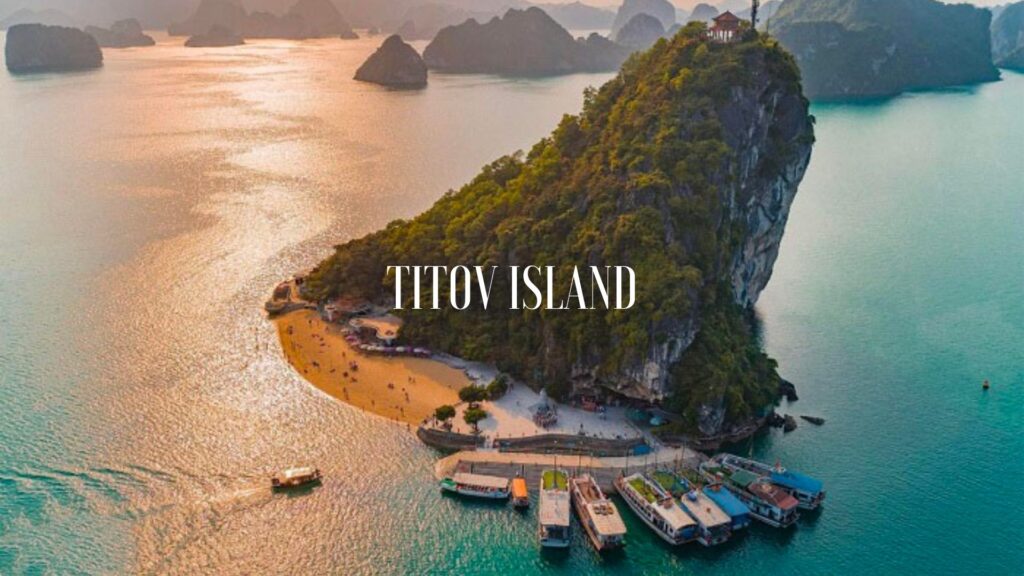 Bai Tu Long Bay: For a not so much swarmed but rather more peaceful experience, visit Bai Tu Long Cove, which is found nearby Halong Narrows. Investigate its immaculate islands, fishing towns, and partake in the tranquility of this immaculate region.
Click here to book cruises in Bai Tu Long Bay!
Cat Ba Island: Go on an outing to Feline Ba Island, the biggest island in Halong Sound, and investigate its different scenes, including delightful sea shores, rich woods, and Feline Ba Public Park. You can go climbing, rock climbing, or basically loosen up in this grand heaven.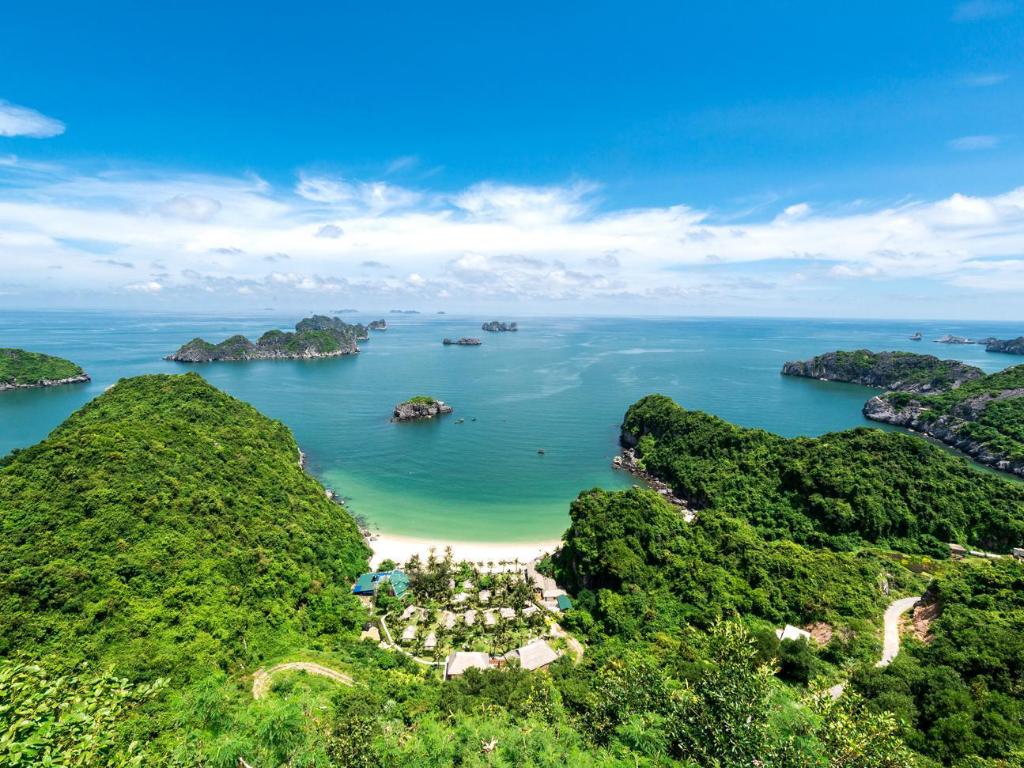 Floating Fishing Villages: Visit the drifting fishing towns to find out about the neighborhood lifestyle and notice the conventional fishing techniques for the inhabitants. Find their novel culture, appreciate new fish, and even stay for the time being on a drifting house.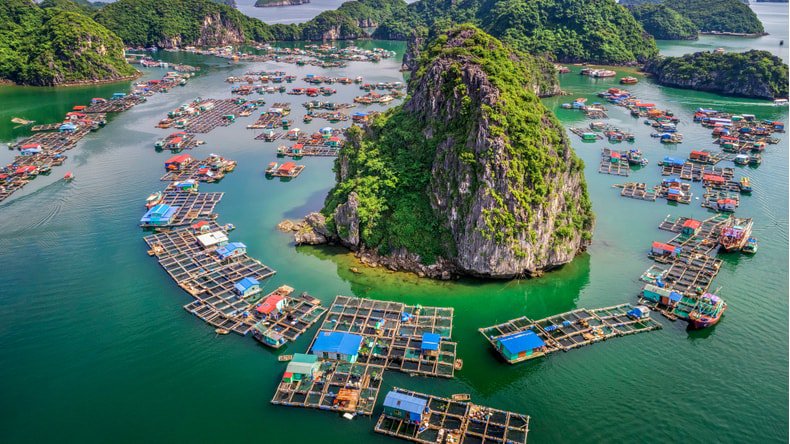 Swimming and Snorkeling: Plunge into the perfectly clear waters of Halong Sound for an invigorating swim or swimming experience. Investigate the submerged world overflowing with beautiful coral reefs and marine life.
Yoga on the Deck: Begin your day with a quiet Judo meeting on the deck of your voyage transport. This antiquated Chinese military craftsmanship loosens up the brain, further develop balance, and adjust your body to the regular environmental elements of Halong Narrows.
Vietnamese Cooking Class: Join a cooking class on board your journey transport and figure out how to plan customary Vietnamese dishes. From crisp spring rolls to exquisite fish claims to fame, enjoy the kinds of Vietnam and bring back new culinary abilities.
Click here to view more tours in Halong Bay!
Night Squid Fishing: Experience the adventure of squid fishing under the brilliant sky. Customary fishing methods will be educated, and you can take a shot in getting squid while partaking in the serenity of the straight around evening time.
Pearl Farm Visits: Investigate the entrancing universe of pearl cultivating and find out about the careful course of refined pearls. Witness the change of a little grain of sand into a glossy pearl, and think about buying a valuable pearl trinket.
These are only a couple of the top attractions and exercises that Halong Inlet brings to the table. Whether you're looking for normal excellence, social encounters, or open air undertakings, Halong Inlet gives a really extraordinary encounter.
Best Time to Visit
The best chance to visit Halong Bay as far as climate and group levels is from October to December, which is viewed as the onpeak season. During this time, the weather conditions is charming with gentle temperatures going from 20°C to 28°C (68°F to 82°F) and low precipitation. The skies are by and large clear, making it ideal for open air exercises like kayaking and climbing.
In the event that you're going on a budget plan, visiting Halong Bay from May to September is suggested as costs are regularly 10-20% lower than in the pinnacle season. In any case, it's essential to take note of that this period falls inside the mid year season, which is described by sweltering climate and more regular downpour, particularly from late May to August. From late June, the straight may likewise be impacted by storms.
Walk to April and September to November are likewise great times to visit Halong Bay as the weather conditions is generally gentle and wonderful during these months, with normal daytime temperatures going from 21°C to 28°C (70-82°F) and clear skies. These periods offer a harmony between positive weather patterns and less groups.
Click here to view Weather in Halong!
Accommodation in Halong Bay
There are different sorts of facilities accessible in and around Halong Bay to suit various inclinations and spending plans. Here are a portion of the normal kinds of facilities you can find:
Luxury Halong Bay Cruise: Halong Bay is known for lavish for the time being travels give an extraordinary and upscale experience. These cruises offer all around delegated lodges with en-suite washrooms, all encompassing windows, and confidential overhangs. Conveniences on board ordinarily incorporate fancy cafés, bars, spa offices, and sporting exercises.
Boutique Cruises: For a more private and customized insight, Boutique Cruises are a well known decision. These more modest estimated boats offer classy and comfortable lodges, frequently with present day conveniences and ocean sees. They might offer extra types of assistance like directed visits, kayaking, and cooking classes.
Click here to book cruises in Halong Bay!
Traditional Junk Boats: Customary garbage boats are an exemplary decision for encountering the appeal of Halong Bay. These wooden boats, furnished with agreeable lodges, inspire a feeling of sentimentality and legitimacy. You can find garbage boats that reach from essential to additional extravagant choices.
Halong Resorts: There are additionally luxury Halong resorts situated on adjacent islands or the central area, offering exquisite facilities with staggering perspectives on the bay. These frequently highlight extensive rooms or estates with private pools, spa offices, fancy cafés, and other upscale conveniences.
Halong Hotels and Hostels: In the event that you're searching for additional reasonable choices, there are mid-range inns accessible in Halong City or close by regions. These lodgings offer agreeable rooms with fundamental conveniences, for example, cooling, Wi-Fi, and in some cases, pools and cafés.
Click here to book Halong hotels!
Budget Hotels and Hostels: For economical explorers, there are additionally financial plan inns and inns accessible in Halong City. These facilities give fundamental offices, including private or shared rooms, common regions, and frequently have a more easygoing and social climate.
Travel Tips
Currency:
The Currency of Vietnam is the Vietnamese Dong (VND). Having some local VND money close by for more modest exchanges and in additional distant areas is suggested. Credit Cards are are widely accepted in hotels, restaurants. ATMs are additionally accessible in most metropolitan regions, permitting you to pull out cash in VND. It's fitting to illuminate your bank prior to going to guarantee that your cards will work abroad.
Language:
The authority language of Vietnam is Vietnamese. English is addressed fluctuating degrees in traveler regions, lodgings, and by those functioning in the travel industry. It tends to be useful to convey a phrasebook or interpreter application to speak with local people in additional far off regions.
Visa Requirements:
Visa Requirements: for Vietnam can change contingent upon your ethnicity and the length of your visit. You should apply for a visa ahead of time or get a visa on appearance. It is encouraged to check with the Vietnamese government office or department in your nation of origin or the most up-to-date visa information and requirements.
Click here to know more about Visa to Vietnam!
Security Precautionary measures:
While Halong Bay is by and large a protected objective for voyagers, playing it safe is dependably significant. A few hints include:
Secure your possessions: Keep your resources, for example, visas and cash, in a protected spot like a lodging protected or a cash belt. Be careful of pickpockets in packed regions and watch out for your possessions while voyaging.
Take alert while swimming or partaking in water exercises: Focus on security briefings and observe rules while participating in water exercises. Know areas of strength for about or uneven waters, and ensure there are appropriate wellbeing estimates set up.
Drink bottled water: It's prescribed to hydrate and avoid tap water to prevent potential stomach sicknesses. Be careful of the food you devour and pick respectable foundations for feasts.
Conclusion
Halong Bay is a must-visit destination renowned for its breathtaking beauty and significant cultural and natural importance. This UNESCO World Heritage site is located in the Gulf of Tonkin and boasts approximately 1,600 islands and islets, which form a stunning seascape of limestone pillars. The towering karst formations and emerald-green waters create a picturesque backdrop that attracts tourists from around the world.
SapaTravel are available almost 24/7 with our online supporting team, we are ready to support our customers from 5:00am to 23:30pm every day. So please do not hesitate to contact our assistance number: +84.787.590.333 – Free contact by Whatsapp/ Viber/ sms / or Email us: info@sapatravel.com for any further information or urgent assistance.