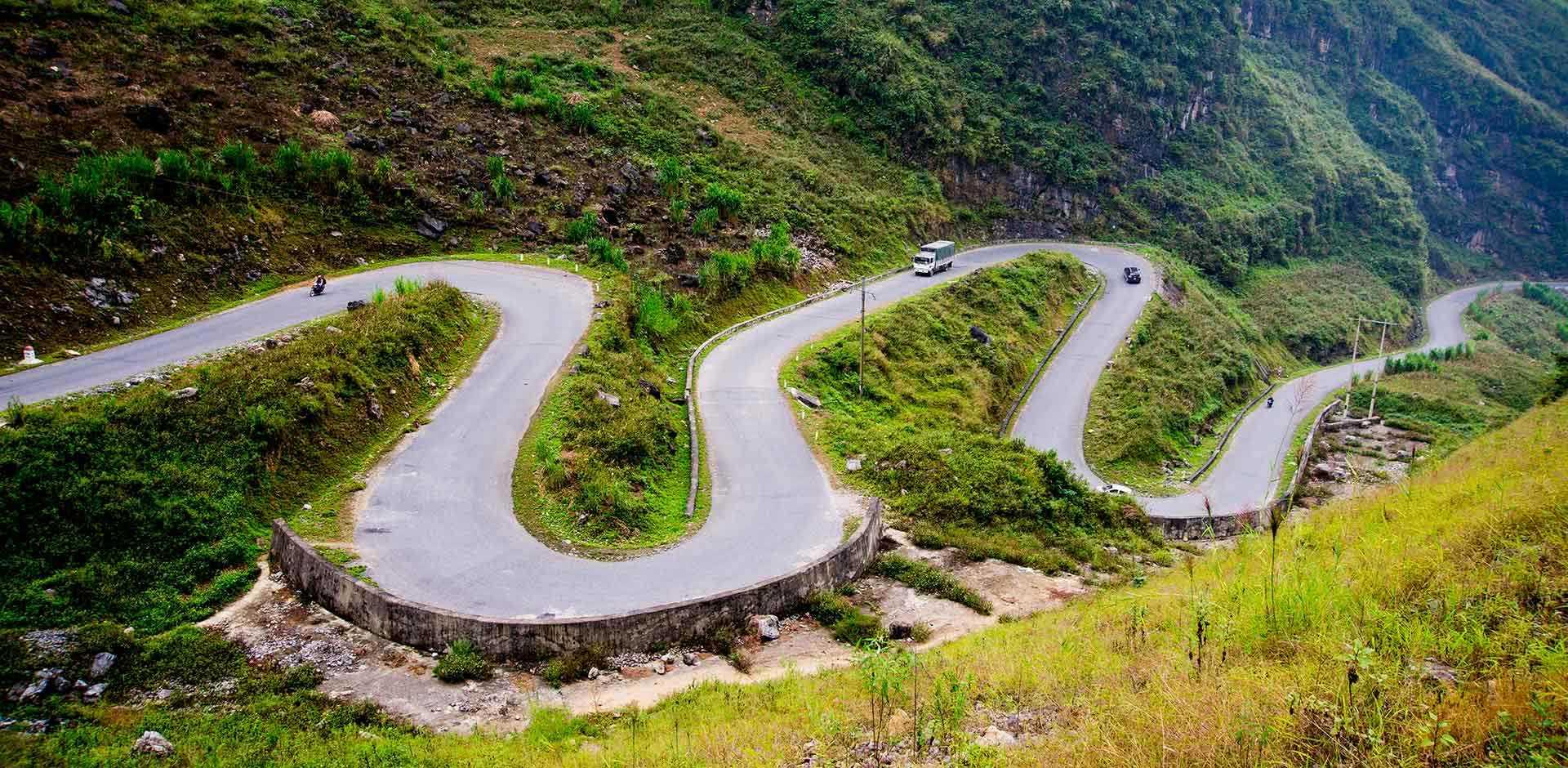 Northern Vietnam is home to some of the country's most breathtaking scenery. Towering limestone karsts, rolling hillsides blanketed in lush rice terraces, and jagged mountain peaks characterize the landscape of provinces like Ha Giang.
While major cities like Hanoi and Halong Bay attract most tourists in northern Vietnam, venturing further north to Ha Giang province offers a more off-the-beaten-path experience. Here, you can immerse yourself in the culture of ethnic minority tribes, traverse winding mountain passes via motorbike, and take in unbeatable panoramic views.
Ha Giang Tours makes an ideal destination for an adventurous, outdoorsy tour of northern Vietnam. The province offers many exciting activities like trekking, biking, and motorbiking through stunning mountain scenery.
To help you plan the perfect Ha Giang tour itinerary, we've highlighted the top 5 tours to consider:
1. Northeast Loop Motorbike Tour
The Northeast Loop motorbike tour is perhaps the most popular way to experience Ha Giang province. This 3-4 day loop takes you through the epic mountain passes and rural villages of the far northeast corner of Vietnam.
The route begins in Ha Giang city, the provincial capital located in the south of the province. From there, you'll head north through a landscape of rolling green hills, limestone outcrops, and rural villages as you make your way towards the Chinese border.
Some of the highlights along the Northeast Loop include:
The Northeast Loop can be done self-guided on a motorbike rented in Ha Giang city. For a more comfortable experience, opt to join a group tour. This will include transportation, accommodations, and often an English-speaking guide.
2. Northwest Loop Motorbike Tour
While less famous than its northeast counterpart, the Northwest Loop through Ha Giang offers similarly stunning mountain scenery. This 3-4 day tour begins in Ha Giang city and loops west towards the Lao border.
Highlights of the Northwest Loop include:
Like the Northeast Loop, the Northwest Loop can be done either self-guided or via an organized group tour. Renting a motorbike gives you ultimate flexibility, while a group tour takes care of all logistics.
3. Ha Giang Trekking Tours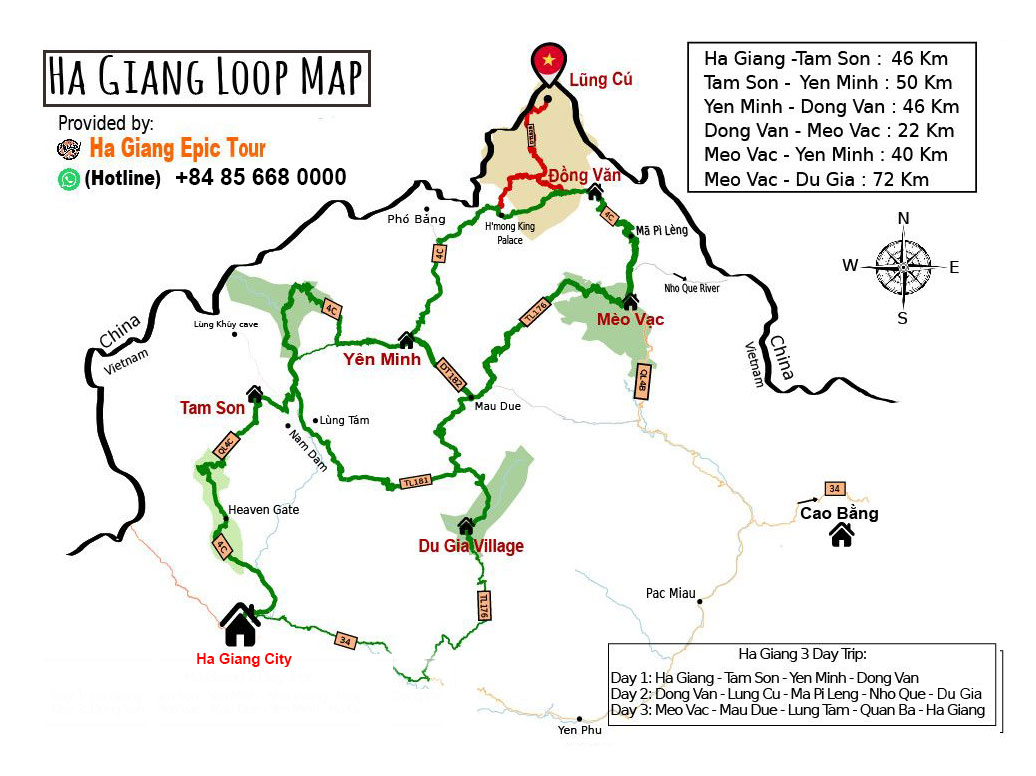 If biking up and down steep mountain slopes isn't your cup of tea, consider exploring Ha Giang on foot instead. Numerous multi-day trekking tours are available, offering the chance to hike through lush valleys, rice terraces, karst mountains and rural villages.
Some top treks in Ha Giang province include:
Trekking tours often include knowledgeable local guides, accommodation in homestays or guesthouses, and meals. Doing a guided trek allows you to fully appreciate the cultural and natural highlights of Ha Giang without having to take care of navigation or logistics.
4. Motorbiking Ha Giang Tours from Hanoi
For travelers short on time, consider a 2-3 day motorbiking from Hanoi to Ha Giang tours. These tours whisk you northeast from the capital to Ha Giang province, focusing on the highlights along the way.
While you won't have time to do a full loop, you'll still be able to take in gorgeous scenery including:
Ba Be National Park – En route to Ha Giang tours, you'll pass this lush national park centered around the stunning Ba Be Lakes. It's a peaceful respite before hitting the winding mountain roads.
Ma Pi Leng Pass – Even if you only have time to drive a section of this epic mountain pass, it's an unforgettable experience.
Dong Van Karst Plateau – There will likely be time to stop and explore part of this unique UNESCO Geopark.
Yen Minh – The striking limestone mountains surrounding this rural town make it one of the area's most picturesque spots.
These tours from Hanoi often include comfy hotel accommodation, meals, motorbike rental, fuel, and support vehicles. It's a convenient way to get a good taste of Ha Giang's highlights without having to worry about planning the details.
5. Ethnic Minority Village Tours
While the mountain scenery usually steals the show in Ha Giang tours, the province's ethnic minority villages are also a huge cultural draw. Visiting hill tribe villages and mingling with locals provides insight into the traditions and daily life of northern Vietnam's tribal groups.
Some top ethnic minority villages to visit in Ha Giang include:
Lung Cam – This picturesque H'mong village is known for its impressive wooden house architecture. You can opt to spend the night here in a traditional stilt house homestay.
Sa Phin – Home to the White H'mong, this remote village near Dong Van town gives you a sense of authentic tribal life.
Thai Giang Pho – Experience the unique culture of the Red Dao tribe at this village near Meo Vac town. Marvel at the women's iconic red turbans and embroidered clothing.
Xa Phin – An isolated village nestled amidst rice terraces inhabited by the H'mong ethnic minority.
Specialized tours make it easy to visit Ha Giang's ethnic enclaves. They'll arrange local guides to give you a deeper understanding of the history and traditions of each village. Immersing yourself in the minority culture brings the experience to life.
---
From epic mountain road trips to hiking through remote highland villages, Ha Giang tours offers countless ways to experience northern Vietnam's magnificent natural scenery and cultural treasures. Its remote location far from major tourist hubs gives it an unspoiled, authentic charm.
If you're up for an outdoor adventure that gets off the beaten path, head to Ha Giang. Its striking landscape of rocky peaks, vibrant rice terraces, and cascading waterfalls set among rural hill tribe villages will leave you in awe.
By choosing one of these top 5 tours, you'll be sure to fully appreciate the very best of stunning, rugged Ha Giang province in northern Vietnam. Just be ready for nonstop scenic beauty and cultural immersion at every turn!
SapaTravel  are available almost 24/7 with our online supporting team, we are ready to support our customers from 5:00am to 23:30pm every day. So please do not hesitate to contact our assistance number: +84.787.590.333 – Free contact by Whatsapp/ Viber/ sms / or Email us: info@sapatravel.com for any further information or urgent assistance.